USER VOICE
"We want to Keep People Cool" Project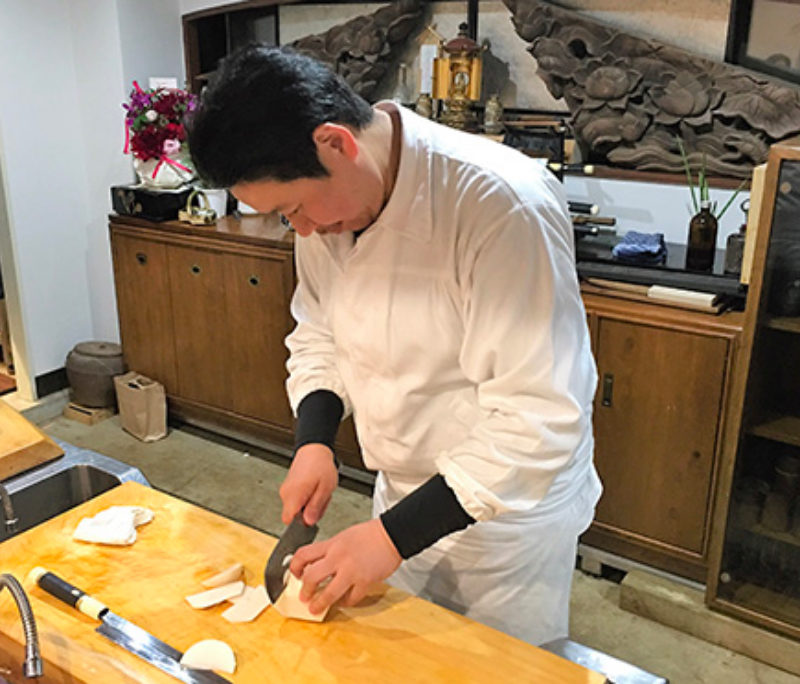 No.1
Clothing fits the body snugly, so the sleeves don't get in the way and loose underclothing is not visible underneath my white uniform.
Chef/Food Consultant
Masahiro Daimaru
"What I want to do is convey the magnificence and tradition of Japanese cuisine to a broad range of people by always maintaining the spirit of developing new ideas and studying the past." So passionately explains Mr. Masahiro Daimaru, a food consultant working in a variety of fields. Mr. Daimaru honed his skills as a chef at a renowned Japanese restaurant, winning the Grand Prize in a contest sponsored by a specialist food magazine. Receiving top awards at numerous contests, he is a key person in modern Japanese cuisine and has worked as the head chef of a members-only restaurant within an embassy. These days Mr. Daimaru has many opportunities for involvement in the production business, and several times a week he prepares cuisine at a members-only restaurant in Tokyo.

"Over the years I have been involved in different food-related jobs, but my roots are as a chef. For this reason, I will never take shortcuts with food preparation, and I want to be continually improving. I believe that my food productions are premised on my being able to achieve this." Mr. Daimaru's work keeps him extremely busy. His activities in recent years* include executive processor of Roppongi 808 Tokyo, consultant in food preparation and hospitality at the Izumo Tamatsukuri Onsen hot springs resorts, and organizer/operator of events in the Tokyo metropolitan area featuring the abundant food ingredients produced in Kimotsuki Town, Kagoshima Prefecture. We provided Mr. Daimaru with FREEZE TECH clothing with the aim of lessening his burden even slightly. We had him wear the clothing several times and then give his opinion as a food consultant.
Mr. Daimaru said, "This shirt has lots of good aspects for a cook. First of all, it doesn't lose the white color when bleached. A sense of cleanliness is essential, after all. Also, it feels cool even when the room is hot. Since the clothing fits the body snugly, the sleeves don't get in the way and loose underclothing is not visible underneath my white uniform. Another pleasing point is that the fabric doesn't stretch too much, even when I roll up the sleeves."

It appears Mr. Daimaru readily adopts anything that is high quality—the same stance that he takes with his work.

"Japanese cuisine is very appealing in the way it changes and improves on a daily basis while maintaining traditional elements. It is true, however, that Japanese cuisine looks slightly too hard to be familiar with. For this reason, I want to convey and spread the magnificence of Japanese cuisine in various forms throughout the world to the best of my poor abilities."


808TOKYO
https://808tokyo.com/

玉井別館
http://tamaikan.com/

肝付町
https://kimotsuki-town.jp/


USER VOICE
"We want to Keep People Cool" Project
In recent years, abnormal heat and heatstroke during the warmest time of summer have become serious issues. We want to support people who work under harsh conditions! This was our objective in launching the "We want to Keep People Cool" Project. We had people in various occupations actually wear FREEZE TECH and then interviewed them. How effectively was FREEZE TECH utilized by a diverse range of occupations? Read on to find out.