USER VOICE
"We want to Keep People Cool" Project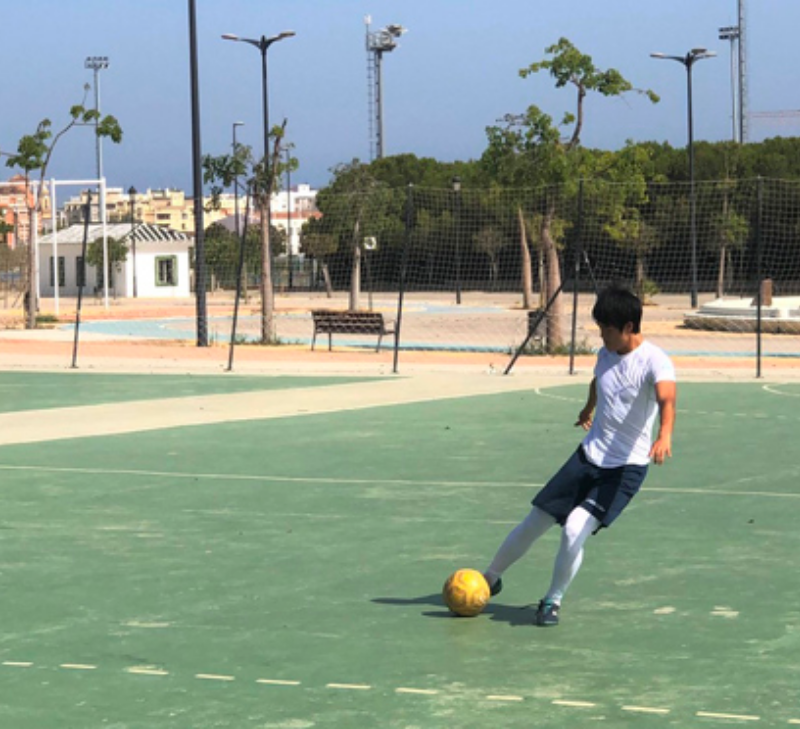 No.3
This product is an essential item for hot days, immediately absorbing perspiration and cooling you down to an astonishing degree.
Soccer player
Shoma Kanno
Mr. Shoma Kanno began playing soccer as a young child because of the influence of his father and elder brother. After going to Spain to study when he was a third-year junior high school student, his future goal was to play soccer in Spain. Since 2019, he has played soccer in Spain, and although the 2020 season was extremely difficult due to the impact of COVID-19, this season he was able to transfer to a new team and is making steady progress towards his goal of playing in Spain's top soccer league. A defender, Mr. Kanno is a player who battles passionately on the field.

Mr. Kanno says, "Spanish summers are not humid, but there are many days when the sun is extremely strong, and the temperature is high. Since I perspire when playing soccer, the heat frequently made playing very difficult and uncomfortable. For these reasons, I had been extremely curious about FREEZE TECH for some time."

What was the FREEZE TECH clothing like to actually use?

"I perspire a lot and am sensitive to heat, so summer weather was always very difficult for me. However, since I began using FREEZE TECH, the fabric quickly absorbs perspiration and makes me feel astonishingly cool, so this is a product I cannot do without on hot days."

What aspects of FREEZE TECH do you especially wish to recommend?

"The biggest point is how surprisingly cool you feel when wearing it. Before now, I had never worn any clothing that made me feel this cool. When wearing FREEZE TECH, the clothing feels so cool that I feel cold when going into the shade or a room with air conditioning after perspiring.
I also recommend FREEZE TECH to women. With the long-sleeved FREEZE TECH innerwear, you feel cool even when wearing long sleeves and it also blocks UV rays, and so I often wear long-sleeved FREEZE TECH innerwear because the sun is so strong in Spain."

Mr. Kanno is continuing to chase his goal overseas in Spain. He is a sportsman that we at FREEZE TECH would also like to support moving forward.
USER VOICE
"We want to Keep People Cool" Project
In recent years, abnormal heat and heatstroke during the warmest time of summer have become serious issues. We want to support people who work under harsh conditions! This was our objective in launching the "We want to Keep People Cool" Project. We had people in various occupations actually wear FREEZE TECH and then interviewed them. How effectively was FREEZE TECH utilized by a diverse range of occupations? Read on to find out.