USER VOICE
"We want to Keep People Cool" Project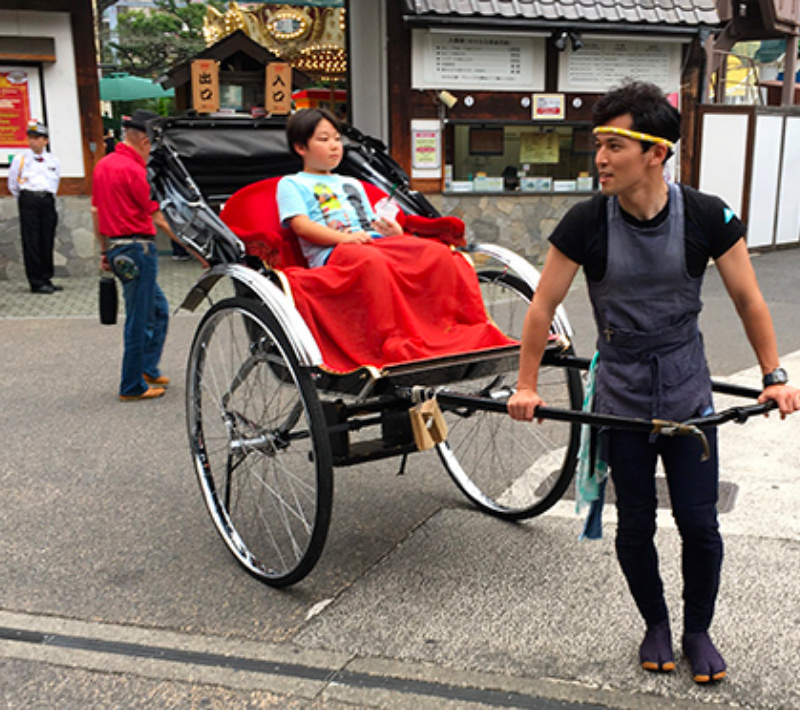 No.2
Simply cool and very comfortable.
Rickshaw driver
Naoya Yoshida
A rickshaw is a vehicle designed to transport people using human strength. In Japan, rickshaws were mainly used as a method of transportation in the Meiji, Taisho, and early Showa eras between late 19th century and early 20th century), but they are still used today for tourists. A rickshaw driver working in Asakusa, a district famous as Tokyo's top sightseeing area, Mr. Naoya Yoshida is a heavy user of FREEZE TECH. This fine young man is so enamored of FREEZE TECH clothing that it is almost embarrassing to listen to his interview.

"In a day I can run up to 30 to 50 kilometers in about eight hours, so summer is crunch time for me," says Mr. Yoshida with a laugh. When taking tourists around a 90-minute course under the hot sun, Mr. Yoshida's clothes used to become soaked with perspiration down to his socks, with the result that he had to change several times a day. One day he was chatting about this situation with a customer when they suggested that he try FREEZE TECH. Initially, he purchased FREEZE TECH clothing with some skepticism, but now FREEZE TECH is an essential item when he is pulling his rickshaw.

Mr. Yoshida says, "FREEZE TECH is simply cool and very comfortable. Previously, I would have to change clothing three or four times a day, but now I just change my apron once a day. FREEZE TECH prevents both stickiness and the smell of sweat, so I think that it's perfect in my line of work. The fit is also just right. It's also wonderful that I now need to carry around less than half the luggage for the work that I used to."

Mr. Yoshida laughingly boasts that he definitely intends to continue using FREEZE TECH in the future and would even put FREEZE TECH stickers on his rickshaw for advertising! When sightseeing in Asakusa, keep your eyes out for a handsome young rickshaw driver wearing FREEZE TECH!
USER VOICE
"We want to Keep People Cool" Project
In recent years, abnormal heat and heatstroke during the warmest time of summer have become serious issues. We want to support people who work under harsh conditions! This was our objective in launching the "We want to Keep People Cool" Project. We had people in various occupations actually wear FREEZE TECH and then interviewed them. How effectively was FREEZE TECH utilized by a diverse range of occupations? Read on to find out.